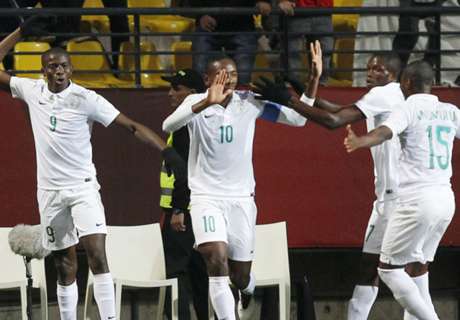 The two teams face each other in a World Cup final for the first time in Vina Del Mar on Sunday, with the Eaglets star on the brink of writing his name in gold

In English, the word is 'five'. In French, it's 'cinq'. And one question begging for answer is will Nigeria make it a quintet of trophies at the Fifa U17 World Cup?

After lifting a fourth title at the United Arab Emirates two years ago, the Golden Eaglets would be hoping to become the first team to win the championship on five occasions, an achievement that would see them match Brazil's feat as of defending the tittle successfully.

Standing in the way of history making feat are Mali , who arrive in Vina Del Mar from a 3-1 thumping of Belgium in the semi-final and crammed with confidence.

For Les Aiglonnets, this final represents the finish line following an awe-inspiring outing after they finished as African champions in Niger Republic. For all the acclaims they have received in recent years, they have not yet won an international trophy.

Baye Ba's side will start as slight underdogs following the intimating record of the west African foes and given they have scored less than the Nigerian are yet to lose to any African opposition in the history of this tourney.

Kelechi Nwakali is Eaglet's captain, but it is Akpan Udoh who is their on-field general; as he has made crucial saves to rescue his team – which makes him a hot favorites for the golden gloves award.

It is also a game that provides Victor Osimhen a chance to seal his position in the pantheon of cadet football greats. He has scored in all the games in the competition, and just one goal away from eclipsing Florent Sinama Pongelle and Souleymane Coulibaly's record of the most goals scored in a single tournament.

Osimhen has been the main man for the Emmanuel Amuneke's boys during the tournament, scoring nine goals so far which includes his treble in the last 16 victory over Australia.

The lanky forward is likely to again find the back of the net with the support of Funsho Bamgboye who missed the semi-final against the Mexico due to card suspension.

Whether Nigeria emerge as world champions or Mali, one thing is certain Africa is the destination of the 2015 Fifa World Cup.